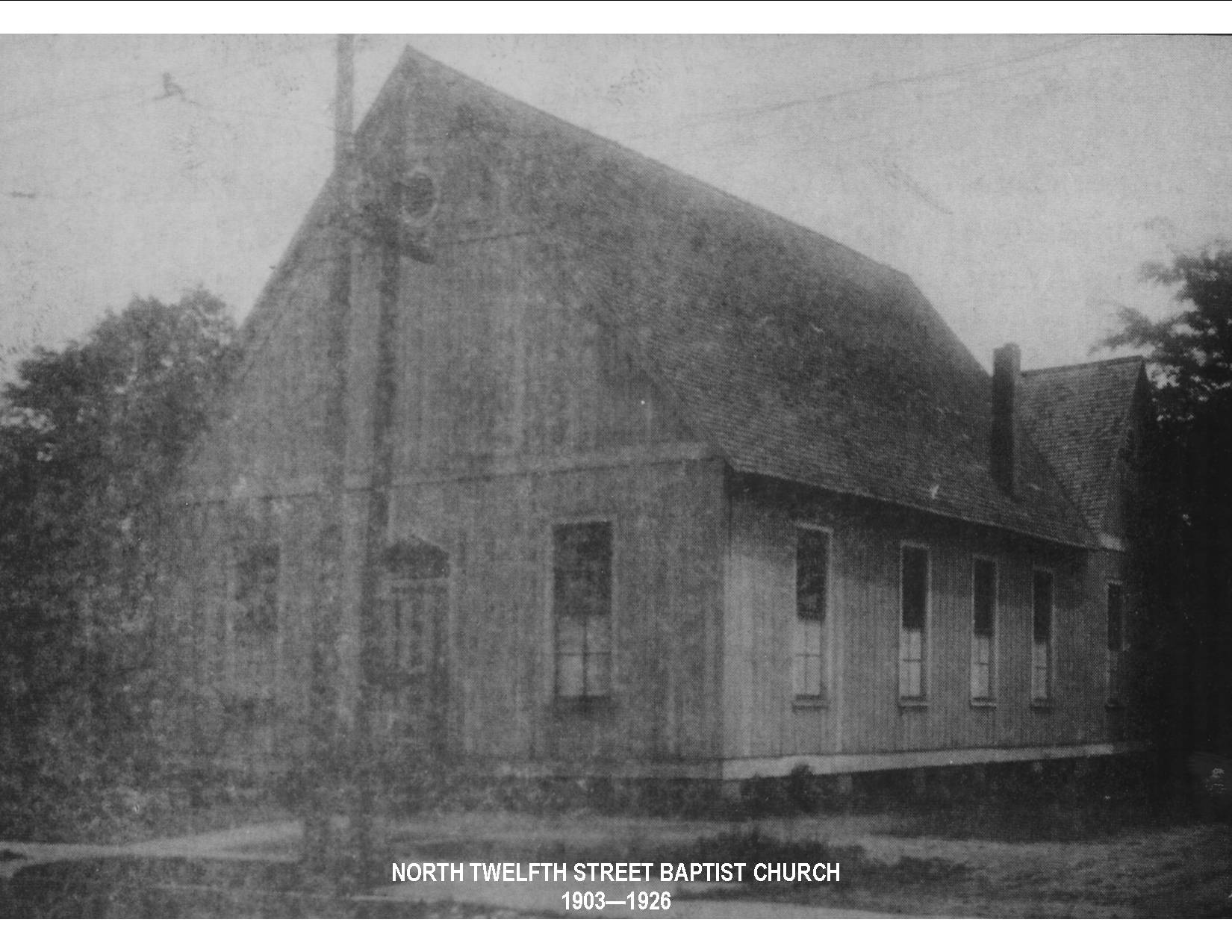 Twelfth Street Baptist Church started in 1907;  a mission of First Baptist Paducah to the community with 69 members. The first few years were experiencing growth and reaching the neighborhood. So much so that the church decided to build a building, so the first committee was appointed in 1918 to begin this process.
In 1937, the church shut down for more than a month because of the major flood in Paducah. It was said that water was in the basement of the church and some people lived upstairs to escape the flood waters, which meant they stayed in the sanctuary!
In the 1940's World War II had begun but so had the church's outreach programs. They began a mission Sunday School on North 7th St. That was the first church started out of Twelfth Street Baptist Church…Praise God!!
Interestingly enough, Twelfth Street had a pastor, Bro. Phillips who had a vision of bringing a Baptist Hospital to Western Kentucky. The church voted to give $50 to help that fund get off the ground. And in 1953, the Western Baptist Hospital opened here in Paducah, KY in large part because of the pastor's vision and the people of Twelfth Street Baptist Church.
The 1950's saw greater ministry via radio and Sunday School efforts. Men were ordained into the Gospel ministry, praise God!
In October of 1965, the church broke ground on a new building on the same property as the original building. They dedicated the new sanctuary on Sept. 3, 1966, less than one year after breaking ground! Discussion that year had been to change the name of 12th Street, but it never took and they let the matter stand, continuing as Twelfth Street Baptist Church.
A Bus Ministry began in 1973, to reach people outside of the Twelfth Street neighborhood. In 1981 a World Missions Conference was held at Twelfth Street. That was also the year that they commissioned another young man into ministry.
In the 1990's, multiple men were ordained and licensed into the Gospel ministry at Twelfth Street Baptist Church. On Dec.1st, 1997, Paducah experienced a school shooting at Heath High School and one of the young ladies shot was attending 12th St at the time. Donations and counsel was given to those at Heath and with other churches in the association. Bro. Holloway was called as pastor toward the turn of the century. And in one of the final business meetings of that decade, a motion was made and carried to relocate away from Twelfth Street.
For almost 100 years and through a great group of families and a number of different pastors, Twelfth Street became a community different from what the church membership looked like. In early 2000, the church voted to relocate to this current location. In 2002, the church voted on a new name — 12 Oaks Baptist Church.
As they left the Twelfth Street neighborhood, This farm was purchased in two tracts, on Brewer and Holt roads, 7.5 acres on Holt Road and 18.5 acres on Brewer Road (which later became New Holt Road). The larger tract of land was sold and helped pay off the loan for the current Worship Center.
12 Oaks current worship center was opened in November of 2004, with 206 members.
The family life center / gym was built in 2010 by Carpenters for Christ in ten days!
In 2020, the Covid virus caused a worldwide pandemic and shut churches down all across this country. Struggling through its own issues, 12 Oaks lost members and pastors BUT, 12 Oaks never lost its heart & purpose; to love God & to love others the same way!
So, December 4th, 2022, Twelve Oaks Baptist Church is celebrating 115 years!
As God's church…as we claim John 16:33…the gates of hell will not prevail against HIS Church!
But, we will not stop!
The commission that God has given this church since its conception, and through its mountains and valleys, and even through its location changes, the commission remains the same! We are the Church God has ordained and the gates of hell will not prevail against her! We will continue to live on mission for Jesus' Great Commission to us as we Love God & Love Others here in this community and around the world.